BIDDING WARS: Thompson-Okanagan homes selling well above listing prices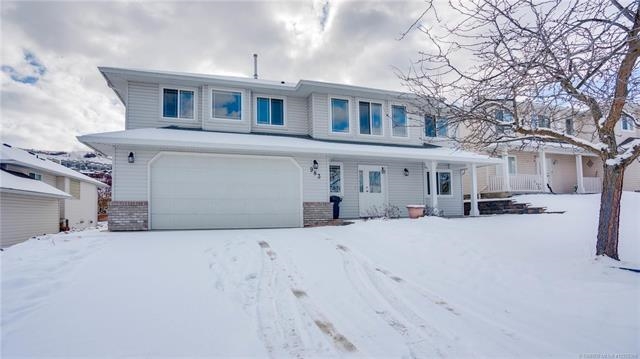 One Kamloops home recently sold for $215,000 over the asking price. Two lower-priced houses sold in Vernon for more than $60,000 over their listed prices.
One, on Mt. Beaven Court in Vernon, was listed for $624,999 and sold the same day for $687,000 — 10 per cent higher.
"I was in at 11 a.m. to show my buyers," Brenda Ellis, a real estate agent with Chris Holm and Associates/ReMax, told iNFOnews.ca. "I have a video of the sign guys putting the sign in. They had a blowtorch to melt the ground and there were two other realtors there at the same time. By the time I got back to the office, I got notification that they had accepted an unconditional offer."
Another home she showed, on Heritage Drive, was listed for $559,000 and sold for $632,000, a gain of $73,000.
So far this year, 50 North Okanagan homes have sold in less than 15 days and sale prices, on average, were 1.5 per cent above the asking price, Ellis said.
The Kamloops home was a little pricier, but not much. It was listed for $985,000 and sold for $1.2 million, Wendy Runge, president of the Kamloops and District Real Estate Association told, iNFOnews.ca.
"We just haven't seen that before," she said. "It's not unusual for a property now to be going over list price in a multiple offer situation."
That's not yet the case in Kelowna but the Central Okanagan is heading in that direction.
"For the first time ever, in February, the average sale price was higher than the asking price," Royal LePage realtor Andrew Smith said.
While that average was only one per cent above the asking price and may reflect some sellers listing deliberately low in order to start a bidding war, it's indicative of a trend sparked by a severe shortage of homes listed for sale.
While, by no means, does every house on the market start a bidding war, it's happening with increased frequency.
"We are seeing more and more multiple offers happening within the first day or two, or first week of a listing," Kim Heizmann, president of the Association of Interior Realtors said. "When multiple offers happen and it's that quick and with the buyer demand at the level that it's at, you are definitely going to see offers coming in higher than asking. How much higher really depends on how comfortable the buyers are and how much they want to pay."
The bidding wars in the region may be triggering more of the same.
"If a buyer has looked for three months and has lost the last three multiple offers and doesn't want to lose the next one, they're going to offer more than they had in the past in order to be the successful bid," Heizmann said.
Her association stretches from Salmon Arm to the U.S. border, west to Rock Creek and East to Manning Park.
She's seeing a big increase in sales in smaller communities because the prices are lower but, given the increasing demand, that may change soon.
Ellis couldn't find any Vernon neighbourhoods where prices had gone up by more than 20 per cent but such increases were the norm for smaller communities in the North Okanagan.
The reason for all this activity is more than just an influx of mostly Lower Mainland buyers, often looking to relocate because they can now work from home and wanting single family homes in order to have the room to do that.
"It's rigid laws of supply and demand," Smith said. "There isn't much supply, especially in 'affordable' price ranges."
In what he calls the Residential sector (single-family, duplex and other bare land strata) there were 349 new listings within the Central Okanagan in February.
While that was an increase from 316 new listings in February 2020, it doesn't tell the full story.
In February 2020, heading into the key spring home selling season and before COVID was an issue, there was a total of 800 residential properties listed for sale in the Central Okanagan. That grew to more than 1,000 in May, June and July.
This year, in February, there were only 388 residential properties listed for sale.
During the same month, 288 properties sold.
That has led to a 25 per cent increase in average prices for the residential category, Smith said. The average house now sells for $938,000 this year compared to $740,000 last year.
Ellis has been tracking listings in the North Okanagan since last last April, after COVID-19 hit.
At that time, in the North Okanagan, there were 1,084 homes of all sorts listed. That climbed to 1,236 in July.
"There were 600 this morning," she said.
Since there were 166 homes sold in February, that leaves the region with a three-month supply.
The supply and demand situation is slightly different historically in Kamloops, but still dire.
The number of listings in Kamloops has always been low but was historically low last year heading into the pandemic.
Runge could not offer an explanation for that historical shortage of listings but did point out that a lack of listings builds its own momentum.
"If there's nothing to buy, people won't list because they don't know where they're going to go, unless you're leaving the market completely," she said. "It kind of created the perfect storm going into COVID where it dipped even lower." Even though the numbers are (in February) up it's not enough to keep up with the demand."
Active listings in the Kamloops region fell to 587 in February of this year compared to 936 last year. With 269 sales in February 2021, that leaves the region with less than two months' supply.
Another reason for the low number of active listings is due to COVID itself, Smith said.
"There's still a sizeable number of people who are afraid of the virus and just don't want to put their homes on the market because they would have strangers in, despite everyone agreeing to wear masks and not touch anything," he said. "Everyone's tolerance is different but there's still a sizeable number of people who just don't think it's a good time to put your house on the market."
Prices in all regions are up by 15 to more than 20 per cent in most housing categories.
A good part of higher average prices (as opposed to median or 'benchmark') is because more people are willing to fork out more than $1 million for a home.
"There was a time, if you had a $2 million listing in Kelowna, you could go two months without a showing," Smith said. "If someone saw it, they would take two weeks to think about it, go to Palm Springs and come back and write a lowball offer or there would be a price reduction. Now people (sellers) are checking their phones four times a day."
Since the start of this year, 158 homes sold for more than $1 million in the Central Okanagan, Smith said.
Of the 349 residential properties listed in the region, 161 owners are asking for more than $1 million, he added.
In Vernon, 31 homes sold for more than $1 million so far this year. Last year, for the same time period, there were only four such sales.
---
To contact a reporter for this story, email Rob Munro or call 250-808-0143 or email the editor. You can also submit photos, videos or news tips to the newsroom and be entered to win a monthly prize draw.
We welcome your comments and opinions on our stories but play nice. We won't censor or delete comments unless they contain off-topic statements or links, unnecessary vulgarity, false facts, spam or obviously fake profiles. If you have any concerns about what you see in comments, email the editor in the link above.
News from © iNFOnews, 2021