At Gallery 421, affordable art is within reach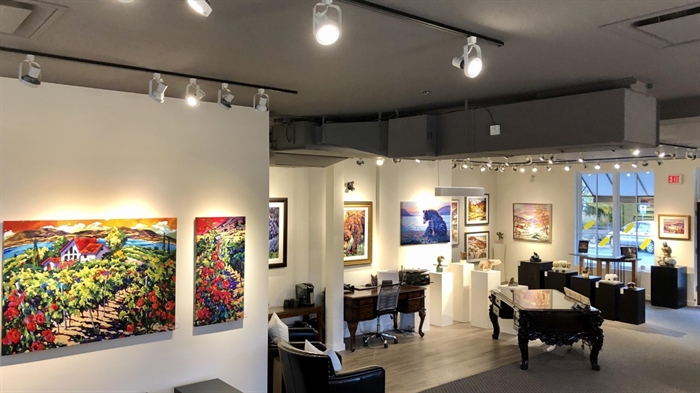 When people think of collecting art, many think it's a rich person's endeavour. But Kelly Hanna says that's not so. Hanna, co-owner of Gallery 421 in Kelowna's South Pandosy neighbourhood, says the thought that good art has to be expensive is wrong.
"It's similar to fashion, the concept of choosing quality over quantity, and gorgeous pieces that stand the test of time," says Hanna, who along with her husband Ken Moen, has owned Gallery 421 since 2019.
Gallery 421, so named for its first home in 2001 in the Rotary Centre for the Arts at 421 Cawston Ave, is now located in the trendy South Pandosy neighbourhood at 560 Raymer Ave. It carries the work of more than 30 emerging and well-known Canadian artists from B.C. and across the country.
The gallery carries what Hanna describes as "big beautiful art," and showcases it in an expansive space that acts as both a gallery and a sales showroom for paintings, sculptures and glass works that cater to all tastes. Its friendly, knowledgeable and helpful staff welcome both browsers and buyers and, in addition to the information they share about the works on hand, can also help buyers find that special piece that appeals to an individual's taste. Advice can also be given on building a private or corporate collection, art restoration, as well as buying and selling art at auction.
The gallery also offers layaway plans, framing, delivery and hanging in the Kelowna area and free shipping anywhere in North America. With corporate art carrying a tax deduction, collecting can also be a wonderful way to support the arts, Hanna says.
Prior to the pandemic, the gallery welcomed visitors at several hosted events throughout the year. But with the current restrictions in place, they moved to a solo exhibit and private appointment format. Hanna says as restrictions ease, the gallery looks forward to hosting public events once again.
Former executives in the energy sector and avid art lovers themselves, after years of international travel away from their Kelowna home, Hanna and Moen wanted to do something engaging and entrepreneurial in the community.
"We did not want to go from 100 mph to zero," she says, so they bought Gallery 421. A long-time Kelowna friend and art consultant Sandra Hogarth helped broker the deal. As for running a gallery, Hanna said it's everything she thought it would be.
"We have a wonderful roster of artists that we thoroughly enjoy working with, delightful clients and a fantastic team," she says.
The gallery is more akin to an art museum than simply a sales showroom and carries a large number of works that are rotated regularly to provide variety to both the viewing and buying public. With two other art galleries nearby, Hanna says it affords the public a great opportunity to view good art in a relatively compact area. With a growing city, the number of collectors who want quality original art is growing too.
"We have our seasoned clients and brand new 'through-the-door clients,' says the Gallery 421 co-owner.
So if you are looking for that special piece of art, or just want to view and appreciate original art by both established and emerging artists, Gallery 421 is the place for you. The gallery is open Monday to Friday, 10 a.m. to 5 p.m. and on Saturdays from 10 a.m to 4 p.m. To contact the gallery, call 250 448-8888, email info@gallery421.ca or visit the website at www.gallery421.ca.
Sponsored By

News from © iNFOTEL MULTIMEDIA, 2021