Two years after pot legalization, B.C. cops only have 10 roadside detectors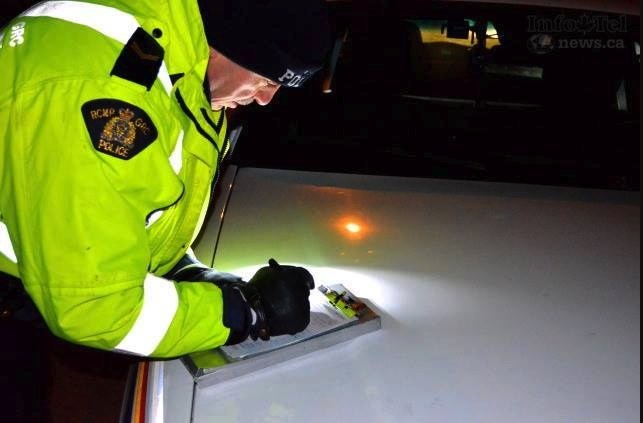 It's been almost two years since marijuana was legalized in Canada but the RCMP in British Columbia still only has 10 roadside cannabis detectors throughout the entire province.
The B.C. RCMP did confirm another 30 roadside cannabis detectors were expected to be delivered to the field soon but didn't put a date on where or when the devices would be issued.
How many roadside cannabis detectors are in circulation nationwide is a harder number to track down. Public Safety Canada told iNFOnews.ca the information would be published in a report later this year.
However, the lack of roadside devices doesn't prevent police from removing stoned drivers from the province's roads.
B.C. RCMP Traffic Services spokesperson Cpl. Mike Halskov said RCMP officers currently use a method called standardized field sobriety testing, which if a driver fails, gives them grounds to make an arrest and may lead to a driver being taken to the detachment for a trained officer to conduct a drug recognition expert exam.
"The instrument is a tool, much like the roadside testing instrument for alcohol, but it does not replace good observations and articulation of impairment," Halskov said. "Standardized field sobriety tests conducted at roadside in conjunction with good observations by an officer and subsequent tests at the detachment by a drug recognition expert and/or a breath test instrument all work together to build evidence for a case of impaired driving, be it by alcohol, drugs or both."
Vernon North Okanagan RCMP Supt. Shawna Baher confirmed her detachment does not have a roadside cannabis detector. While the Vernon RCMP took dozens of drivers impaired by alcohol off the road between April 1 and July 31, in appears no one was removed for cannabis impairment.
"We did take 57 people off the roadway for being impaired by alcohol but right now we don't have definitive tests to test for marijuana," Supt. Baher told Vernon council Aug. 17. "I can't say that there is any increase in the number of people driving under the influence of marijuana than there were prior (to legalization), people who are smoking marijuana are doing it now and did it before, so a lot of people are very responsible."
Currently, two roadside cannabis detectors have been approved for use in Canada, the Draeger 5000 and the Abbot SoToxa. Public Safety Canada said in May 2019 it would spend $10.1 million over five years in B.C. to purchase roadside cannabis detectors and train more officers in standardized field sobriety testing and drug recognition expert evaluation.
However, prominent Vancouver defence lawyer Kyla Lee said her law firm bought the $10,000 Draeger device and after two days of testing found the machine recorded false positive readings.
"It was really embarrassing for Draeger it showed all these false positives," Lee told iNFOnews.ca.
The RCMP detachments in B.C. which do have detectors are using the Abbot SoToxa, but Lee said the same issues arise and its use is likely to be challenged in court.
As a prominent defence lawyer specializing in impaired driving, Lee said it's incredibly rare to see police lay criminal charges for cannabis-impaired driving, and they mainly issue 24 hour prohibitions to drivers. She's also seen a change since a 90-day prohibition for drug-impaired driving was introduced in July 2019.
"I've seen a huge uptake in people who are getting these 90 days (suspensions) but who aren't being charged criminally," Lee said. "It's cheaper and faster."
But while the lack of roadside cannabis detectors may seem worrying, Lee said cannabis use has been around in B.C. for a long time, so people have been driving around while high and the province wasn't seeing a huge number of accidents involving people who had smoked or used cannabis.
"I think the takeaway should be that cannabis users in B.C. are behaving and driving responsibly and not giving rise to any widespread concern by police," Lee said. "If there was an issue, if there were accidents and injuries and deaths caused by cannabis-impaired drivers, we would see police doing more to enforce it. I'm confident of that."
The pandemic has also made the lack of machines a moot point. Due to COVID-19, the use in the field is currently suspended because it involves obtaining a saliva sample.
---
To contact a reporter for this story, email Ben Bulmer or call (250) 309-5230 or email the editor. You can also submit photos, videos or news tips to the newsroom and be entered to win a monthly prize draw.
We welcome your comments and opinions on our stories but play nice. We won't censor or delete comments unless they contain off-topic statements or links, unnecessary vulgarity, false facts, spam or obviously fake profiles. If you have any concerns about what you see in comments, email the editor in the link above.
News from © iNFOnews, 2020