Osoyoos cannabis store has what you need
Interior Cannabis Co. in Osoyoos has all your cannabis needs covered. The store, which has been open for eight months, carries a full line of products including a large selection of flower strains, as well as edibles, topicals and concentrates, both with THC and CBD.
THC typically gives the high associated with cannabis, while CBD does not. CBD is found in the type of cannabis used to relieve pain and to help with sleep.
In addition to the store's well-trained, friendly and knowledgeable staff, all products sold at Interior Cannabis Co. are well-labelled and provide additional information for customers.
The store has a good supply of products and prides itself on its competitive prices and good service. It not only wants to be accessible but also make its customers feel comfortable. When the 1,000-square foot store was being designed, the desire was to make it an inviting place for customers to shop and, as a result, wood was used extensively to give to the store what staff say is "an Interior look."
That accessibility and inviting nature of the store appears to be paying off. Business at Interior Cannabis Co. — located just off Main Street at 8304 72 Avenue — has been good since it opened last year and business continues to grow each month. Word of mouth is important for the store and this has resulted in many new customers.
While the store caters to customers in all age groups (who are legally allowed to buy cannabis), currently seniors make up the largest number at Interior Cannabis Co. That may not be too surprising given the large number of seniors who live in the Osoyoos area, but the staff have noticed, and are impressed by, how knowledgeable their senior customers are when it comes to shopping for cannabis products. With many seniors looking at alternatives to traditional medications now, they do their research and some are turning to cannabis products instead.
Other customers are more traditional cannabis buyers and the store's biggest-selling product continues to be flower by the ounce.
Since the federal government legalized cannabis in Canada almost four years ago, retail outlets have sprung up in towns and cities across the country. And even in smaller communities, there are typically several stores open now. The owner of the Osoyoos store is looking to open a second store somewhere in the Okanagan. But he says when he looked at nearby Oliver as a possible location, he was surprised to discover there were already six cannabis retail stores open there.
Undeterred, he says he plans to continue looking.
Interior Cannabis Co. in Osoyoos is open seven days a week, 10 a.m. to 9. p.m. Monday to Saturday and 12 p.m. to 6 p.m. on Sundays. For more information give them a call at 250 495-0222.
Sponsored By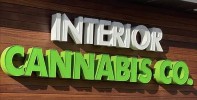 News from © iNFOTEL MULTIMEDIA, 2021