Osoyoos Cannabis Retailer Succeeds on Customer Service
Retail success is often measured in dollars but for the Interior Cannabis Company Inc. in Osoyoos, the real reward is customer satisfaction. Owner Matt S believes that delivering on that commitment to his clients is why the shop will soon celebrate its first anniversary at 8304 72 Ave. this November.
"Business was so-so in the first few months - definitely trial and error - but then people started coming back in and the summer was very, very good," said Matt, who also owns Advanced Fitness Club Inc. in Osoyoos. "I think that's because people felt very comfortable and wanted to come back. It's because of our staff. They are very outgoing, have good product knowledge, and are just great at being friendly. Feedback on the street has also made a difference. Word travels quickly, especially in this town."
Numerous online reviews have given Interior Cannabis a five-star rating in quality, service and atmosphere. One Google reviewer wrote: "Love this store. Friendly and knowledgeable staff. The layout allows for easy shopping. Thanks Interior Cannabis for making my experience so positive."
That was something Matt is particularly glad to see. "I would say it's because our selection is better than anybody else's in town, and our pricing is definitely lower. And it's so critical that you realize everyone's needs are different."
Interior Cannabis carries a full line of products, including a large selection of flower strains, as well as edibles, topicals and concentrates, both with THC and CBD. THC typically gives the high associated with cannabis, while CBD does not. CBD is found in the type of cannabis product used to relieve pain and to help with sleep.
Especially important to Matt is the recent introduction of the product, Vortex CBD Edible, to their menu. Its pain-relieving potential has even made Matt's mother a regular customer.
"Seniors – well actually everybody — loves it," he said of the product. "A lot of people take them for pain relief and sleep. It's so popular we've sold out three or four times but luckily we have been able to restock a few cases over the last few weeks."
Matt believes customer service is also why his clientele base is diversified: "A lot of people don't realize cannabis is not just about people wanting to get high. Seniors are definitely my biggest customer group, at least in the morning. It just varies on the time of day and the time of week."
In the future, Matt is looking to expand his product lines and open a new location elsewhere in the Okanagan. For now, he will stay focussed on keeping his customers happy. Interior Cannabis is open seven days a week. For product information visit interiorcannabis.wm.store or call the retail store at 250 495-0222.
Sponsored By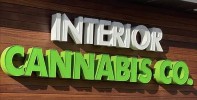 News from © iNFOTEL MULTIMEDIA, 2021