Okanagan residents frustrated with ministry inaction at cannabis property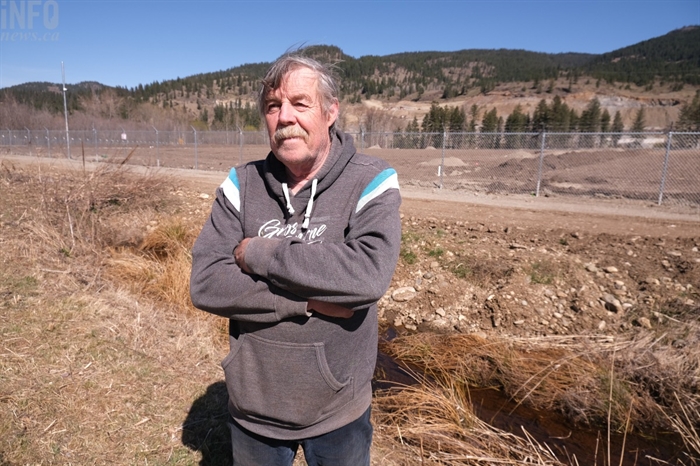 For years, Lake Country resident and retired wildlife biologist Dave Young voiced concerns with various government agencies about wildlife habitat being destroyed by a neighbouring cannabis facility but little has been done to address them.
Young has lived at his property on Sawmill Road in Oyama for his entire life. In 2018, he, along with other partial owners, sold 37 acres next to his home to CannaWorks Inc., a medicinal cannabis company that plans to house 640,000 square feet of greenhouses and 100,000 square feet of indoor space on the property, according to District of Lake Country documents.
"They came in and it was partially our fault… we didn't know who was buying it. As soon as they came in, they started taking down the trees and bringing in machinery and preparing it for what they wanted to do," he said.
In 2018, during a local state of emergency due to flooding in the district, he watched as the company moved a fish-bearing creek from where it used to run through the property to the side of it, Young said.
"You can't get away with that stuff but in this case, no one was prepared to do anything. From day one, I was onto every ministry, trying to tell them what was going on but nobody came," Young said.
Finally, the province flagged off a few trees that contained bald eagle nests on the property, Young said. Bald eagles and ospreys are protected under the B.C. Wildlife Act. The Department of Fisheries and Oceans has also visited the property, but Young said nothing has been done.
In the last three months, dirt has been pushed and filled into a riparian area next to Kalamalka Lake, Young said.
"That particular riparian (area) has skunk cabbage and it's very unique in the Okanagan," Young said.
The cannabis property is currently located in the Agricultural Land Reserve, he said.
"I think their attitude is 'we'll do it, and if we have to pay some fines, we'll pay them,'" he said. "The biggest problem is because it's in the ALR, our government in its wisdom decided it was farming, and the Agricultural Land Commission had the power.
"It's been a nightmare of mistakes."
Complaints have been made to the District of Lake Country, but it's outside of the district's jurisdiction, said communications officer Kirsten Jones. Bylaw officers did inspect the property but found no infractions. The district also did not approve any riparian works on the CannaWorks property, but investigations under the Ministry of Forests, Lands, Natural Resource Operations and Rural Development and Department of Fisheries and Oceans are ongoing.
Neither agency would comment further due to the ongoing investigations, but Tyler Hooper, public affairs officer with the Ministry of Forests, said the compliance and enforcement branch has received a number of complaints related to the matter and hopes to wrap up the investigation soon. It began in 2018.
Oyama Coun. Todd McKenzie said he has seen the cannabis company disturbing the waters beside Kalamalka Lake, adding fill and working with machines inside the riparian area.
He said he got a call back from the province about a month ago, but so far nothing has happened and the work continues.
Moving a creek is also "a big no-no" McKenzie said. "But they did it under the guise that it had flooded and it had left its banks."
"One day I was looking at a muskrat swimming in this little creek and you could see where they were plowing it over with dirt. They were just filling in the creek," McKenzie said. "You would think someone moving a fish-bearing creek would be in trouble, and yet they seem to get away with it."
CannaWorks Inc. did not respond to requests for comment.
---
To contact a reporter for this story, email Carli Berry or call 250-864-7494 or email the editor. You can also submit photos, videos or news tips to the newsroom and be entered to win a monthly prize draw.
We welcome your comments and opinions on our stories but play nice. We won't censor or delete comments unless they contain off-topic statements or links, unnecessary vulgarity, false facts, spam or obviously fake profiles. If you have any concerns about what you see in comments, email the editor in the link above.
News from © iNFOnews, 2021