North Okanagan's newest 'glampground' is 'cannabis, alcohol and party-friendly'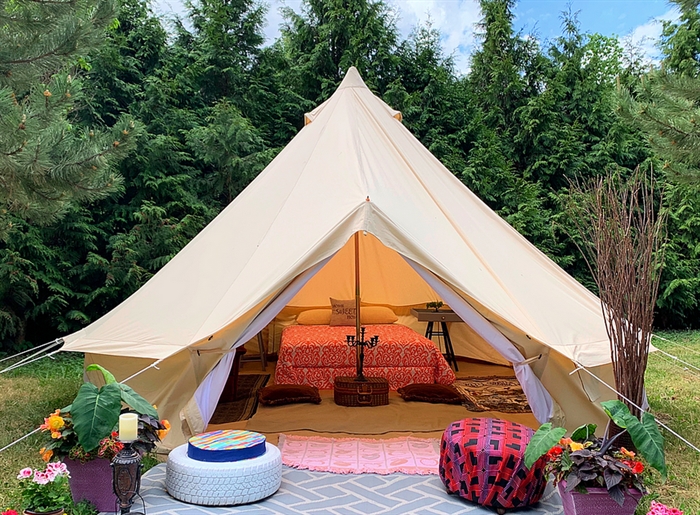 After just five days in operation the bookings are already pouring in for the Utopia Feels Botanical Glampground and Micro-Farm in the North Okanagan near Vernon.
"I think I'm on to something," owner Doug Vidic told iNFOnews.ca. "The bookings are going crazy. The website is going crazy. People want this."
What "this" exactly is remains a work in progress and a dream just starting to be realized.
Vidic bought the 20-acre property at 6800 Learmouth Rd. in Coldstream on May 15. Since then he's set up 10 large tents in the former tree nursery, opened his basement suite to serve as restroom/showers for guests and started welcoming campers.
"What we've done with it in a month, I'm pretty proud of that," Vidic said.
What he hopes to do is build a greenhouse, aeroponic tower gardens and raise animals to create an "all inclusive" resort with a twist. The all-inclusive part is that guests will be able to pick their own vegetables, grab a couple of fresh eggs from the chickens on site and some farm-raised meat for their meals.
This is all being promoted as a "cannabis, alcohol and party-friendly" glampground that encourages fun.
"There's a lack of places that allow bachelor parties or birthday parties, that allow people to let loose a little bit," Vidic said. "If people get out of hand, that's OK. I know how to handle that stuff. I will just correct it. As long as they respect their fellow guests and as long as they respect the times when we shut down. I don't have a problem with it."
If it's going to be a party weekend, he'll look into booking the entire site for that group. Other times, it might just be families.
As for promoting Utopia as cannabis-friendly, Vidic says more people should be doing it.
"Everybody shies away from cannabis, which is completely legal," he said. "We should be looking at cannabis tourism around here. The whole Okanagan is known for growing some of the best cannabis in the world. Why not have tourism that caters to it?"
A big focus will be on agri-tourism and micro-farming, starting with the existing resources which is a wide variety of tree species from the former nursery.
Plus, guests need to be prepared to have farm animals visiting them when they rise in the morning.
There are young goats, sheep, pigs, rabbits, chickens and a cow.
"The idea is, we're going to be raising them from young and training them and socializing them, raising them with love and care, and letting them out, getting people to socialize with them," Vidic said. "Later, you harvest the stuff because that's the circle of life. I just want to show people that farming sustainably and farming with love and care, it really affects your food. It affects your meat because, what you feed your animals, how you raise your animals, really affects how the meat turns out."
Is there a risk of traumatizing some young guest who returns to find their favourite cow turned into hamburger?
"People have shied away from' where does your burger come from?'" Vidic said. "Yes, you can pet it. You can love it. But this is the circle of life. This is where you get your meat from. Know where you get your meat from."
If sustainable farming seems at odds with partying, that contrast reflects where Vidic is coming from himself.
"I worked in the oil sands for most of my career," he said. "I'm also Metis, so I identify as Aboriginal. So, after being in this dirty oil industry destroying the earth, destroying the environment most of my career with these big electric shovels, these big trucks, my values have changed after travelling and meeting people and being more out in nature. This is kind of my way of giving back. I'm moving towards more of an eco-friendly sustainably. It's all about farming sustainably and enjoying life, not capitalistic oil, money hungry, destroying the environment at any cost."
%%Image6%%
The way reservations are pouring in, Vidic expects to be fully book through the summer and already has some reservations for September. With plans to install wood stoves in each tent, he envisions guest staying well into October.
There are two tent sizes equipped with queen sized beds. The smaller one can sleep a family of four and cost $150 a night while the larger ones can fit two families of four for $200 a night.
Find out more on the Utopia website here or call 236-970-6366.
— This story was updated at 1:32 p.m. Friday, June 18, 2021 to correct the spelling of Doug Vidic's name.
---
To contact a reporter for this story, email Rob Munro or call 250-808-0143 or email the editor. You can also submit photos, videos or news tips to the newsroom and be entered to win a monthly prize draw.
We welcome your comments and opinions on our stories but play nice. We won't censor or delete comments unless they contain off-topic statements or links, unnecessary vulgarity, false facts, spam or obviously fake profiles. If you have any concerns about what you see in comments, email the editor in the link above.
News from © iNFOnews, 2021