Backyard cannabis gardener in Peachland surprised to find police at her front door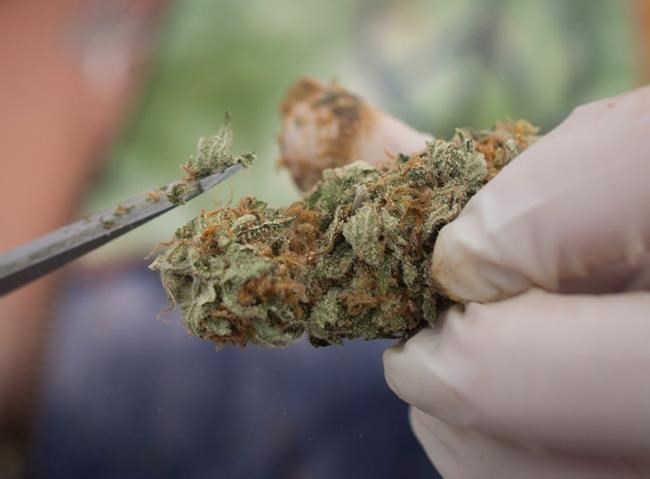 Viola Gabanowicz has lived a quiet life in Peachland for 20 years.
So one day earlier this month when she heard a knock at her door she didn't think much of it.
"I made my husband go get it," she said. "I thought it was a delivery or something like that, but he was occupied for a while and it piqued my interest so I went down the stairs."
That's when she saw a police officer who told her that a neighbour had called about the marijuana plants growing in her garden. She and her husband took the officer to the backyard, and they went to the fence where there are a lot of plants.
"We have a garden and the policeman looked around and zeroed in on the tomatoes which were quite prominent," she said.
The police officer then left the tomatoes and walked up to where there are two marijuana plants.
"He checked to see there weren't four or more and then turned around," she said. "He said the neighbours called about the marijuana plants suggesting we had more than we were supposed to and the smell bothers them — I was a bit puzzled, we only have two plants."
Gabanowicz is 61 and her husband is 66 years old and cannabis has been helpful for some of their age-related ailments.
"We have arthritis and other things and we smoke before sleep — it helps with sleep, my headaches and arthritis."
She asked him, "aren't these plants allowed, why is it a problem?" And she was told that they are allowed, but the smell bothers the neighbours. But their irritation isn't a legal matter.
"After that exchange, he headed back for his car, we said goodbye and I ran out and I sprayed everybody's hands with the disinfectant and he left," she said.
When the experience was fresh in her mind, Gabanowicz turned to the Peachland community group to share her story and hundreds of comments followed.
Some were lighthearted and some were more serious.
One that stood out to Gabanowicz was a woman who said she should be more respectful of her neighbours if they don't like the smell.
Gabanowicz pointed out that living in suburbia doesn't mean perfect harmony — concessions for others have to be made.
"I'm a vegetarian — I have to go inside when people have a barbecue because of the smell — but I don't complain," she said. "If we live next door to each other, I think we should try to be understanding and tolerant."
And, she pointed out, two plants are far from a forest.
Starting in 2018, adults 19 and older have been allowed to grow as many as four plants. The limit is based on household, not the number of people, so whether you live alone or with family members, only four plants are allowed.
Growing cannabis is prohibited anywhere visible from a public place and the location chosen must be at one's own residence.
With two growing seasons available, people in community groups have noted the pong of pot in the air. RCMP didn't respond to requests for information.
---
To contact a reporter for this story, email Kathy Michaels or call 250-718-0428 or email the editor. You can also submit photos, videos or news tips to the newsroom and be entered to win a monthly prize draw.
We welcome your comments and opinions on our stories but play nice. We won't censor or delete comments unless they contain off-topic statements or links, unnecessary vulgarity, false facts, spam or obviously fake profiles. If you have any concerns about what you see in comments, email the editor in the link above.
News from © iNFOnews, 2020